Magic your team's performance
Through a coaching culture that brings together the present and future, your team's goals will come sharply into focus, says Rosie Nice As we emerge into a post-Covid world, the cultures of our organisations matter more than ever. Individuals are increasingly making career decisions based on where...
Through a coaching culture that brings together the present and future, your team's goals will come sharply into focus, says Rosie Nice
As we emerge into a post-Covid world, the cultures of our organisations matter more than ever. Individuals are increasingly making career decisions based on where and how they work, with flexibility, choice and empowerment being key factors. Furthermore, the generation now entering the workforce is increasingly focused on self-development and wellbeing. In this changing environment, the creation of a coaching culture could make all the difference between an organisation surviving and thriving.
Recent research by Gallup found an enormous 70% of the variance in team engagement is determined solely by the manager, so your impact is pivotal. Adopting a coaching approach shows you care and demonstrates your commitment to your team's learning and growth. Coaching empowers individuals to establish clear personal and professional goals for themselves, develop robust plans, and take personal responsibility for achieving these goals, gaining enhanced job satisfaction by achieving success through their own efforts. This is good for business too: an environment where people feel empowered and valued also reduces absenteeism and attrition. Data provided by BetterUp shows companies with a strong coaching culture have significantly higher year-on-year revenue growth (45% higher) and higher five-year average revenue growth (14% higher) than companies with a low coaching culture.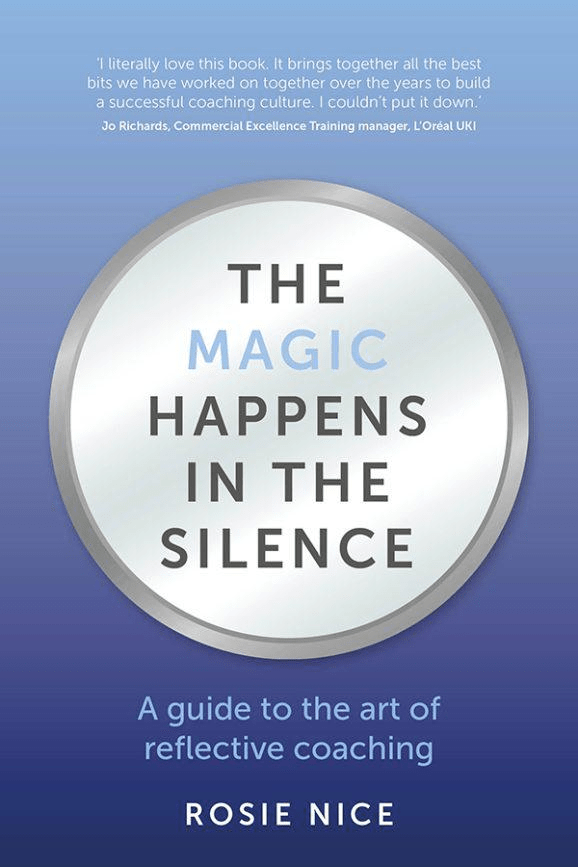 Creating the essence of a coaching culture
At its most fundamental level, coaching represents a simple process of asking questions and listening carefully to the responses, providing space for your team to reflect and find their own answers to their challenges. While embarking on a culture change is an indepth process, here are three behaviours which you can adopt today to make an enormous difference.
Ask, don't tell – Try to resist telling people what you think they should do, and ask them what they think, instead. This can be the most difficult part of learning to coach, but it is probably the most important behaviour of all.
Listen more than you speak – True listening does not just mean hearing what your team member is saying. It means giving your full attention and creating a non-judgemental environment where people feel they can speak freely.
Slow down – Coaching creates space for reflective thinking. This is where the magic happens, and this takes time. We want our teams to gain the confidence and ability to think effectively for themselves, taking responsibility for their own performance and their own development. The investment of time spent on coaching reaps huge rewards going forward, as teams become more independent and self-reliant.
Embodying these three key behaviours, here is a methodology which leads you through five MAGIC stages: Mirror, Aspirations, Goals, Ideas, and Commitments – creating a bridge between the present and the future: your very own magic wand.
Next time you sit down with a team member to talk through their performance, help them plan
their work, set meaningful goals or look at how they might approach a challenging situation, try using this framework to shape the discussion.
"Resist telling people what you think they should do"
Mirror
Start by holding up a metaphorical mirror and asking them to reflect on their current situation. Ask them what is going well, and what they are pleased with and proud of. Listen carefully, encourage them to speak openly and take time to recognise their achievements and celebrate their successes. When I start a coaching conversation in this way, I find it creates real positive energy. People appreciate this acknowledgement of everything that is going well, because they usually spend so much thinking about challenges and problems.
Then, consider the things which aren't going so well. Discuss areas where they don't feel so confident, and where their results aren't so successful. The point is not to be negative, but to consider what they can learn from their experiences, to help build success in the future.
Understanding the current situation is a critical element of strategic goal planning, but it's often overlooked in our rush to get started. To use a travel analogy, when you embark on a journey, you need to know your starting point before you can plan your route.
Aspirations
Now, start to explore what they would really like to see in the mirror, and their vision for the future. What does success look like for them, personally and professionally? Encourage them to think about the bigger picture. What is the best-case scenario? What would they do if they knew they couldn't fail, or if they had unlimited resources? These reflections can be as relevant when considering the days or weeks ahead, as when considering life-long aspirations. When planning a meeting, a project or their whole career, clarifying the ideal outcome is a hugely valuable part of success planning.
"Ask what would they do if they knew they couldn't fail"
Goals
The next step is to turn these aspirations into clear, tangible goals. What exactly would they like to achieve, and by when? Can they break a bigger goal into smaller milestones or mini goals to mark their progress and make it seem less daunting? Use the SMART pneumonic to help check that the goals are specific, measurable, achievable, relevant and time- bound. To continue the analogy of crossing a bridge, you are now at the top of the arc, with the clearest view, looking back to the start point, and forward to the ideal destination.
Ideas
By now, you should have a clear set of specific goals, linked to their wider aspirations: you have helped your team member clarify what they will achieve, and can now move onto consider how they will achieve it. The aim is to explore a range of possible ideas. What could they do? What options are open to them? Do they know anyone else who has worked towards a similar goal and could offer help and advice? Encourage them to generate a wide range of ideas before evaluating their options and selecting the ideas which will work best.
Commitments
This last stage completes the MAGIC coaching framework by incorporating these ideas into a robust plan with some specific commitments. Ensure their first step is very clear and encourage them to start with some "quick wins", generating the greatest reward for the least effort. Next time you meet, you can hold up the mirror to reflect on their progress and start the cycle once again.
This reflective coaching process works equally well when you use it on yourself and become your very own executive coach. Diarise some reflective time to work systematically through the framework, share your plans with some supportive people to be your coaching buddies, and celebrate all your achievements.
These five MAGIC steps can guide you through the coaching process, helping assess the current situation, identify ideal outcomes, set specific goals, explore potential ideas and create a plan of action, empowering you and your teams to take responsibility for your own development and dramatically increasing all your chances of achieving your goals for 2023. I wish you every success.
ABOUT THE AUTHOR
Rosie Nice is the founder of MAGIC Coaching. She runs coach training programmes and spends much of her time helping organisations build a coaching culture, sharing the transformational results coaching can create. She is also author of new book, 'The MAGIC Happens in the Silence,' a guide to the art of reflective coaching.